When your divorce proceedings make it necessary to appear before a New York State family court, it is important to remember certain things that may reflect favorably on you. Any court is a dignified environment that commands respect. The judge and court officials will expect that certain behavior and protocols be observed. Williamson, Clune & Stevens, divorce lawyers in Ithaca, Elmira, Binghamton and Syracuse, can help you prepare for your appearance in Divorce Court. Here are some important considerations.
Demonstrate Respect
The court is a legal environment, and your behavior demonstrates your respect for the law – or a lack of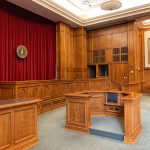 it. Showing respect in your manner of speech and actions makes a favorable impression and ensures that the proceedings can be handled smoothly and efficiently. You can demonstrate respect for the court by:
Standing when the judge enters and/or leaves the courtroom.
Addressing the judge as "Your Honor." This is appropriate for male and female judges. Use the proper titles for other court officials when necessary ("My attorney," "the attorney for the plaintiff or defense," "the family services representative" or "the officer in question"). When using names, always use Mr. or Mrs. or Ms. and the last name.
Being an active listener. Give the judge and others who speak your full attention. Never interrupt the judge or another court official while they are speaking.
Speaking appropriately and using respectful body language. Avoid slang or profanity. Make eye contact when speaking or listening. Answer questions directly without arguing. Sit or stand straight and keep your hands still.
Remaining calm at all times. Losing your temper and shouting only reflects poorly on you and negatively impacts your case.
Eliminate Distractions
When you are directed to appear before the court, there should be nothing present to divert your attention from the court business. Leave your cell phone locked inside your car (most courts require this). Unless your children are required to be present, arrange for them to be cared for away from the court. Do not allow any family or friends to attend the court proceedings that may draw attention to themselves or otherwise disturb the court while it is in session. Your attorney from Williamson, Clune & Stevens, divorce lawyers in Ithaca and Syracuse, can provide further advice.
Dress Appropriately
You are expected to dress appropriately as a means of showing respect for the court. Avoid wearing casual attire, such as tennis shoes, jeans, shorts, active wear and T-shirts. The basic guideline is business or business-casual attire.
For women – some suggestions include a dressy or classy blouse (not too revealing), a skirt that covers the knee or slacks and closed-toe shoes. Choose conservative colors. A business suit is also appropriate.
For men – some suggestions include a collared shirt (with or without a tie) tucked into the pants, dress slacks or kakis with a belt and clean, polished shoes. A business suit is also appropriate. Choose conservative colors and styles of clothing. Avoid any logos or print on clothing.
Williamson, Clune & Stevens is your community-focused and family-oriented law firm in Ithaca, Syracuse, Elmire and Binghamton that can provide experienced and knowledgeable representation for your divorce in New York State. Ask us for more advice regarding your appearance in court when you work with us to handle your divorce.